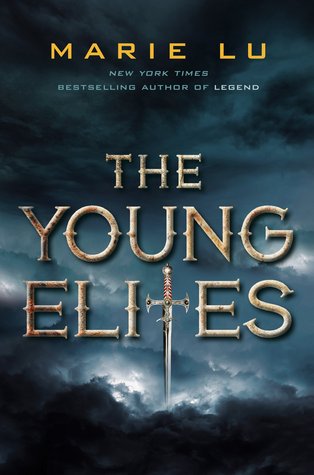 Rating:

Title:The Young Elites
Author:Marie Lu
Publisher:G.P. Putnam's Sons Books For Young Readers
Publication Date:October 7th 2014
Source:bought
Format:Hardcover
Pages:355

Goodreads
|
Amazon

Adelina Amouteru is a survivor of the blood fever. A decade ago, the deadly illness swept through her nation. Most of the infected perished, while many of the children who survived were left with strange markings. Adelina's black hair turned silver, her lashes went pale, and now she has only a jagged scar where her left eye once was. Her cruel father believes she is a malfetto, an abomination, ruining their family's good name and standing in the way of their fortune. But some of the fever's survivors are rumored to possess more than just scars—they are believed to have mysterious and powerful gifts, and though their identities remain secret, they have come to be called the Young Elites.

Teren Santoro works for the king. As Leader of the Inquisition Axis, it is his job to seek out the Young Elites, to destroy them before they destroy the nation. He believes the Young Elites to be dangerous and vengeful, but it's Teren who may possess the darkest secret of all.

Enzo Valenciano is a member of the Dagger Society. This secret sect of Young Elites seeks out others like them before the Inquisition Axis can. But when the Daggers find Adelina, they discover someone with powers like they've never seen.

Adelina wants to believe Enzo is on her side, and that Teren is the true enemy. But the lives of these three will collide in unexpected ways, as each fights a very different and personal battle. But of one thing they are all certain: Adelina has abilities that shouldn't belong in this world. A vengeful blackness in her heart. And a desire to destroy all who dare to cross her.

It is my turn to use. My turn to hurt.
MY THOUGHTS
I was not a fan of this novel which is suckish because The Legend trilogy is one of my favourites. It did not "wow" and I had more issues with it than likes.
The premise of the novel is one that is overdone in YA literature, yes, but there was so much potential for growth and individuality and it did not live up to it in my opinion. It blended into the background AND also possessed one of the most cringeworthy aspects that I personally think a YA book can possess: energy. Any talk about energy, labeling it as a very physical thing and the root determinant of the supernatural turns me off.
I don't think that it can be done well. I'm not arguing the possibility of it being done well because everything is possible and if you've read a book in which "energy" as a very physical life force excels, then please drop me a line because I'm actually curious. I don't like this "book trope"...at all.
I enjoyed the succession of events in the story but none of the POVs through which they were seen except Enzo's. That's unfortunate because his POV made up only about 10 percent of the novel. The other times, it interchanged among Adelina, Raffaele and Teren, with Adelina being in the majority. Her POV was confusing and bothersome. She's a villain, I know she is.
Adelina delights in hurting people and it was different to read things from her perspective but again, not done well. Sometimes, I empathized with her because she truly needed it and I thought she was just misunderstood but I came to a realization that she's just a psychopath. Because of her botched POV, I saw other characters whom I don't believe to be terrible as terrible. All her enemies A.K.A the good guys who are not enemies of the reader or the general public were displayed as menaces for distancing themselves from her and her powers.
I didn't connect with most of the characters on a deep, emotional level and the one character that I truly loved *blank* because *blank blank blank*
Besides that, this novel was...okay. It was a quick read filled with lots of action and a crazy suspense-ridden ending but it fell way short for me. Despite all my disappointment though, I still plan on reading the sequel, if only to see what happens next and satisfy my need to complete things. Plus, I love Marie Lu's writing, even if I wasn't too fond of this particular book.
Final Sentence in the Novel
"Come," she says. "I need to pay Kenettra a visit."
I write young adult novels, and have a special love for dystopian books. Ironically, I was born in 1984. Before becoming a full-time writer, I was an Art Director at a video game company. Now I shuffle around at home and talk to myself a lot. :)

I graduated from the University of Southern California in '06 and currently live in LA, where I spend my time stuck on the freeways.

---