Rating:

Title:Vengeance Road
Author:Erin Bowman
Publisher:Houghton Mifflin Harcourt Books For Young Readers
Publication Date:September 1st 2015
Source:Publisher
Format:ARC
Pages:318

Goodreads
|
Amazon

When Kate Thompson's father is killed by the notorious Rose Riders for a mysterious journal that reveals the secret location of a gold mine, the eighteen-year-old disguises herself as a boy and takes to the gritty plains looking for answers and justice. What she finds are devious strangers, dust storms, and a pair of brothers who refuse to quit riding in her shadow. But as Kate gets closer to the secrets about her family, she gets closer to the truth about herself and must decide if there's room for love in a heart so full of hate.
MY THOUGHTS
I was sent an Advanced Readers Copy of this novel by the publisher, Houghton Mifflin Harcourt Books for Young Readers, in exchange for an honest review. All opinions stated are solely mine and I was not compensated for this review.
Vengeance Road piqued my interest from the instant that I read the synopsis and that it why I joined its street team and also braved my fear and insecurity of my blog not being good enough to request an ARC. Forget everything that you think you know about western novels and mentally prepare yourself for the most exhilarating, mind‐blowing, heart‐stopping, feels‐inducing ride of your life.
Kate Thompson is out to avenge the death of her father by the hands of the infamous Rose Riders and will stop at nothing to put a bullet through their skulls. Disguised as a boy and accompanied by the Colton brothers, she embarks on a journey to unravel the mystery surrounding his death.
My love for the level of detail in Vengeance Road is unparalleled. There were so many historical aspects and they were extremely well done. Erin Bowman presented the setting of the Wild West perfectly, taking a timeline that is typically overdone and transforming it into a captivating piece of YA literature that few are likely to overlook.
The setting was beautiful, the plot was original and had my heart palpitating, the stand‐out characters will forever have a place in my heart but the aspect of this novel that reached out, grabbed me and sucked me in was the use of accents. A lot of times in YA, the readers are informed that a certain character is British or Japanese or Australian but unless it is specifically written, there's no way we could tell from their speech. The southern accents that the characters in Vengeance Road possessed made my little fangirl heart squeal with joy and I think that it added to the overall authenticity of the novel. Pretty much, it made me feel like a cowgirl:
The characters shone out to me like sunbeams. They were all very round, complex and had their own quirks. Whether you loved them or wanted to rip their guts out and strangle them with it, you knew a lot about them and had an in depth feel for their personalities. My favourite character, by far, was our protagonist, Kate. She was stubborn, fiercely loyal, sarcastic and showed an immense amount of strength in a society where women aren't regarded as having any.
I particularly loved the evolution of this character. Kate went from being this grief‐ridden girl on this blind quest for vengeance, thinking that she needed nothing and no one to someone who laughed, welcomed help and love, someone who understood the cost of vengeance. Kate was an amazing character to read about because she wasn't just a pile of anger and violence. There was a multitude of layers to her personality.
The plot twists in
Vengeance Road
were twistier than twizzlers so...pretty twisty. Shock, shock, shock, shock, shock and more shock! When I honestly thought I couldn't be shocked further, I WAS SHOCKED FURTHER! The angles thrown at the reader were so unexpected and creative but also made me want to cry and hit things.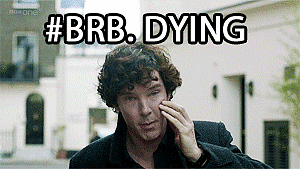 I WAS A BUCKET OF EMOTIONS. One minute I was happy, then devastated, then outraged. I could not keep my feelings in check. It was impossible.
An irresistible western novel woven with threads of mystery, romance and heartbreak,
Vengeance Road
is a must read. That, in a nutshell, is why I chose to give it five cupcakes. It was one of my most anticipated reads of this year and it surpassed all expectations. If there's any book that you read this September, let it be this one, it will not disappoint.
Final Sentence in the Novel
It rings and it echoes and it glistens like gold.
Favourite Lines in the Novel
"Not all that tempts your wand'ring eyes

And heedless hearts , is lawful prize;

Nor all that glitters; gold" - Thomas Gray

"You always feel it but it becomes a duller sting, 'stead of sharp. Course, that's assuming you don't ride the road of vengeance. You got good intentions, Nate, but that path's like rubbing salt in the wound. Yer cut'll never scab over." - Jesse Colton
Money's supposed to fix problems, not give you more, but I guess life ain't that straightforward.
Seems pretty darn clear that the greatest evil in the world walks on two feet right beside us, in the form of men like Waylan Rose and his boys.
Erin Bowman used to tell stories visually as a web designer. Now a full-time writer, she relies solely on words. She lives in New Hampshire with her family and when not writing she can often be found hiking, commenting on good typography, and obsessing over all things Harry Potter.

Erin is represented by Sara Crowe of Harvey Klinger. She is the author of TAKEN, FROZEN, and FORGED (4/14/15) from HarperTeen. VENGEANCE ROAD is forthcoming from HMH (9/1/15).