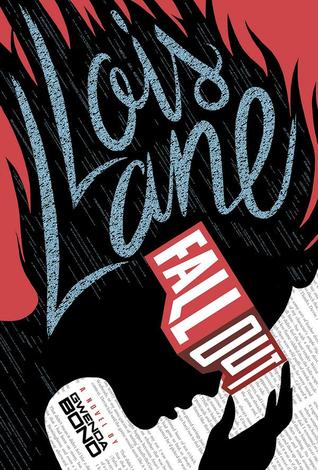 Rating:

Title:Lois Lane: Fallout
Author:Gwenda Bond
Publisher:Switch Press
Publication Date:May 1st 2015
Source:Won
Format:Hardcover
Pages:303
Goodreads
|
Amazon
|
Barnes and Noble
|
Indigo

Lois Lane is starting a new life in Metropolis. An Army brat, Lois has lived all over—and seen all kinds of things. (Some of them defy explanation, like the near-disaster she witnessed in Kansas in the middle of one night.) But now her family is putting down roots in the big city, and Lois is determined to fit in. Stay quiet. Fly straight. As soon as she steps into her new high school, though, she can see it won't be that easy. A group known as the Warheads is making life miserable for another girl at school. They're messing with her mind, somehow, via the high-tech immersive videogame they all play. Not cool. Armed with her wit and her new snazzy job as a reporter, Lois has her sights set on solving this mystery. But sometimes it's all a bit much. Thank goodness for her maybe-more-than-a friend, a guy she knows only by his screen-name, SmallvilleGuy
MY THOUGHTS
I won this novel in a giveaway, all opinions stated are solely mine and I was not compensated for my review.
Lois Lane: Fallout follows Lois Lane (obviously), a teenage girl who has moved countless times because of her father's military job and plans to stay under the radar and fit in at her newest school. Her plans, however, are quickly interrupted when she witnesses firsthand the principal's unsympathetic dismissal of a girl's claims of bullying by her creepy classmates known as the Warheads. Driven by her newly acquired job at the Daily Scoop and her deep-rooted need for the truth, she attempts to fix things with the aid of her friends and a mysterious (not really) boy with an alias of SmallvilleGuy but soon finds out that the problem is a lot more complicated than it seems.
My literal reaction to receiving a book where the protagonist is not only a comic book character but one of my FAVOURITE comic book characters:
I went into this book expecting so much and I was NOT disappointed. I loved every moment of it; every sassy comment from Lois, every sardonic and grim moment involving the Warheads, everything! One of the features of this novel which just sealed the deal for me was the character development and I am just going to take a moment to talk about my two favourite characters: Lois Lane (of course) and SmallvilleGuy.
Their relationship was...weird but good! They've never met each other and their only real physical contact has been in the realms of a video game. Lois doesn't even know his name! Normally, something like this would turn me off but it was such an integral part of what this book was, it was a catalyst to many events and I would be lying through my teeth if I said I did not love it! I am a massive
Smallville
fan and from the get go, every time there was some small description of SmallvilleGuy that Lois could not connect, I would scream "Superman!". It was invigorating to know something that the protagonist did not.
Speaking of our protagonist, she was such a kickass lady! She was funny and pushy and strong-minded and not to mention loyal! I lived for every confrontation she had with her father or the Warheads or the principal! Her badassery (not a word, I know) was on a whole different level and when she got herself into sticky situations, she didn't need help, she was just like: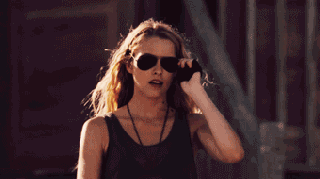 The fact that a guy she met through the internet was the only person with the ability to tame her wiliness was also, admittedly, very cute.
The plot of the book was very interesting and fast-paced. I think it took me two days to finish and I took a lot of breaks. It had a very Nancy Drew feel to it and who doesn't love Nancy Drew? Gwenda Bond took what I initially thought was going to be a very basic bullying plot line and twisted and turned it into something exciting and memorable, something very different from what I would have imagined, something that I am going to fangirl about for a really long time.
If you are a comic book/superhero nerd (like myself), you must pick this up. It is very modern twist on Superman, a turning of tables where Superman is not the hero, his girl is! It definitely shows that you do not need to be from another planet, you don't need a fancy cape or powers to be someone's hero and I quite enjoyed that message. The fangirl in me lit up because we got to see a different side of a classic and well-loved tale. It was comparable to fan fiction but so much better!
Read this! Read this! Why are you still here? You should be at the bookstore buying this! I loved this book so much and I thought it was a standalone so naturally, this was my reaction to finding out that it is, in fact, going to be a series and I will get to experience more of Lois and more of this world:
Final Sentence in the Novel
And we walked into the violently beautiful sunset together.
Favourite Lines in the Novel
But I still considered auto spellcheck one of humanity's greatest inventions. - Lois
I was never one to disappoint. Except maybe my parents. - Lois
Don't get people in trouble if you want them to be your friends - Lois
I only had one day. Desperate times called for chatting in front of the others and trying not to make any goofy faces. - Lois