Hey guys, long time no blog. I've been gone for about three weeks and you are probably thinking "Didn't you just make a blog post where you promised to post more often?" and yes, yes I did. Or maybe you didn't even notice my absence, in which case, I'm not at all offended. Just as I decided that I was going to commit myself openly and fully to the development of my blog, my computer decided that it wanted to take an extended vacation so...it broke. Seeing as it was my only real way of updating you guys, I couldn't post and it was killing me! Thankfully, I got a new laptop! *happy dance* Also, exams have been hectic but they are finally O-V-E-R and here is how I feel about that:
I'm sorry for my unannounced hiatus guys but I promise that exams are over and I have a week left of school and I will be posting as if my life depends on it in the next few months. Just because I haven't been active on my blog doesn't mean that I have not been reading, I have a mountain of reviews that need to be written and I thought I'd just start off with two books or, a bind-up of two books really, that I recently read and quite thoroughly enjoyed:
Obsidian and Onyx by Jennifer L. Armentrout.
I am constantly recommended this book on Goodreads, Twitter and basically, everywhere and I am so happy that I finally read it.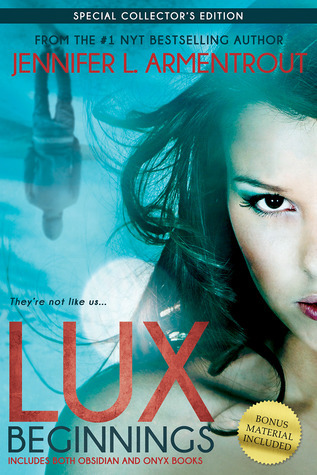 Rating:
Title:Lux: Beginnings (Obsidian and Onyx)
Author:Jennifer L. Armentrout
Publisher:Entangled Teen
Publication Date:June 3rd 2014
Source:Personal Buy
Format:Paperback
Pages:800
Barnes and Noble
-
Amazon

Obsidian

There's an alien next door. And with his looming height and eerie green eyes, he's hot…until he opens his mouth. He's infuriating. Arrogant. Stab-worthy. But when a stranger attacks me and Daemon literally freezes time with a wave of his hand, he marks me. Turns out he has a galaxy of enemies wanting to steal his abilities and the only way I'm getting out of this alive is by sticking close to him until my alien mojo fades. If I don't kill him first, that is.

Onyx

Daemon's determined to prove what he feels for me is more than a product of our bizarro connection. So I've sworn him off, even though he's running more hot than cold these days. But we've got bigger problems. I've seen someone who shouldn't be alive. And I have to tell Daemon, even though I know he's never going to stop searching until he gets the truth. What happened to his brother? Who betrayed him? And what does the DOD want from them—from me?
Review
Obsidian
Obsidian was a breath of fresh air. I went it into expecting a lot as it is frequently described as "Twilight meets aliens" and despite what everyone says, Twilight is my love and aliens are so HOT! Jennifer L Armentrout did not disappoint as I thoroughly enjoyed the story. The first 50-pages or so were a bit dull and uneventful but it quickly picked up and I could not put it down. I loved the characters instantly because they were so distinct and memorable. I also thought that it was really really cute that the protagonist, Katy, was actually a book blogger, it made it a lot easier to relate to her. She was not monotonous, stupid or self-involved, she was kind and feisty and might I just say, her relationship with Daemon, who is BAE, was so pure and entertaining. I didn't at all feel like it was rushed, no deep, heartfelt confessions of love in this book! Daemon's unrelenting love and protectiveness for the ones that he cared about really stuck with me, and though he was a douchebag about 3/4 of the time, the other 1/4 he was the sweetest little alien in the world.
The world of the Luxen and the Arum were original, I've never read anything like that before and while I did get some Twilight vibes from this novel, it was a book by itself that needed no comparison. Fast-paced, original and noteworthy, Obsidian is the book to talk about.
Onyx
Moving onto Onyx where we already have a clear idea of what Daemon and his family are and things are back to normal. Almost. You know, with the slight exception of Katy now having some weird alien mojo after an event which I can't explain in detail without spoiling all of you who haven't read the book. To top it off, the DOD (basically, like a deranged version of MEN IN BLACK) is snooping around and then, there's a new guy at school who's cute but seems too good to be true. What could possibly go wrong?
I really enjoyed Obsidian but I LOVED Onyx. I like to think of it as that child of some famous person that becomes way more famous than the famous person. The action WAS literally non-stop. You got to see a whole new side of Daemon and the lengths he would go to to protect his family. His and Katy's relationship just goes from 0 to 100 real quick! The laughs and the tears, all the feels were felt while reading this and the cliffhanger at the end! I just don't know what to think. Onyx was a page turner in a class of its own.
Follow my blog with Bloglovin