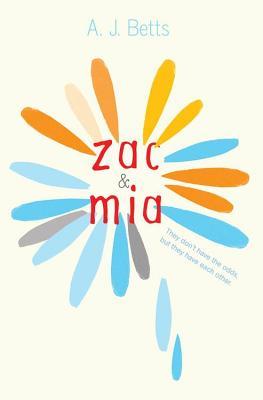 Rating:
Title:Zac and Mia
Author:A.J. Betts
Publisher:Text Publishing
Publication Date:September 2nd 2014 (first published July 24th 2013)
Source:Netgalley
Format:e-galley
Pages:292
Goodreads
-
Amazon

"When I was little I believed in Jesus and Santa, spontaneous combustion, and the Loch Ness monster. Now I believe in science, statistics, and antibiotics." So says seventeen-year-old Zac Meier during a long, grueling leukemia treatment in Perth, Australia. A loud blast of Lady Gaga alerts him to the presence of Mia, the angry, not-at-all-stoic cancer patient in the room next door. Once released, the two near-strangers can't forget each other, even as they desperately try to resume normal lives. The story of their mysterious connection drives this unflinchingly tough, tender novel told in two voices.
Review
I received an e-galley of this book from
NetGalley
in exchange for an honest review. I expected to enjoy this book a lot more than I actually did. Hmm...I honestly have no clue how to describe the emotions that this novel evoked from me but I am going to try in the most coherent way possible.
When I initially started reading this, it felt very
The-Fault-In-Our-Stars-esque
to me and I loved it because that is one of my favourite books. Zac's tone was very humorous and he was instantly a likable character, much like Augustus Waters, though instead of having an obsession with metaphoric resonances, he had one with medical statistics. Zac was cute and annoying, he was cutely annoying and you just wanted to slap him but kiss and hug him and play call of duty with him and just forget the fact that he had leukemia. Mia, on the other hand, was the most frustrating and self-absorbed character ever. I wanted to kill her and then resurrect her to kill her again. She was SO selfish. I mean, I get that she had osteosarcoma and had to adjust to major lifestyle changes, especially the fact that she doesn't have her leg anymore but there she is, bitching about her 98% chance of cancer survival while everyone who has cancer realizes how lucky she is and would KILL to have her odds. I just could not for the life of me fathom how one human being could manage to be so dull and unsympathetic.
This novel has a lot of really weird quirks that just grabbed me. For example, the title of the book is "Zac and Mia" and also, the book is separated into three sections: Zac, And, Mia. In the first part, Zac is the sole narrator. In the second part, Zac and Mia dual narrate and in the third part, it's all annoying-as-hell Mia, all the time. It was different and really intrigued me. I also enjoyed Zac and Mia's way of communication while they're stuck in the hospital; there's literally a wall between them and they knock on it like it's their own form of morse code. That was just so adorable!
The character development in the story was phenomenal, particularly for Mia. At the beginning of the book, everything that came out of her mouth made me want to strangle her. At the end of the book, she was mildly annoying but not nearly as much as she had been at the start. She was a completely new person, less shallow and dare I say lovable. Though character development was great, I didn't really get what Zac and Mia had together. They barely knew each other and what time they spent chatting over Facebook in the hospital, Mia insulted Zac for most of it. Even when they were out of the hospital, there really was no romantic connection, there wasn't really much of a friendship. I didn't really understand how their relationship escalated the way it did, to the point where Mia depended on Zac. I just didn't feel their friendship/relationship or whatever it was.
The premise of the novel was very raw and had to deal with very real topics and I think that it flowed well and it made sense but I do not feel like the issue in the story was handled very well. I don't think that this book did anything for me, mostly because the ending was so abrupt and did not solve the problem. The problem was left wide open and there was no sense of closure that should come with stand-alone books. Many questions were left unanswered, both about the health and romance of the main characters and that was not okay with me.
This book was quick to read but it fell short for me, I just did not connect and I decided to give it 2 cupcakes.
Final Sentence of the Book
And I am the luckiest.
Read if you enjoy...
Contemporary~Serious Issues
Follow my blog with Bloglovin