Hosted by
An Avid Reader, A Wannabe Writer
.
Description: Each week I will have a book-related theme or game, or something fun to do that week. And you can play along! All you have to do is find the question for that week, go to your own blog, write a post that day based on that question, and link your post to this one using the link up tool at the bottom of the post.
This week's question: What is the largest book that you have ever read? Was it worth the length?
This question was weird to answer because I don't read a lot of massive books. I mostly read YA and Middle Grade and unfortunately, I don't encounter many books that I would truly consider to be overly-large and daunting. I am not quite positive if this is the largest book that I've ever read but for this, I'm going to have to say
Harry Potter and the Order of the Phoenix by J.K Rowling
which is a biggy at 870 pages and I loved reading every page of it! It was fantastic and definitely worth all the hours I spent reading it. You guys should already know what this book looks like and if you don't, what was your childhood? Just in case, here is a picture: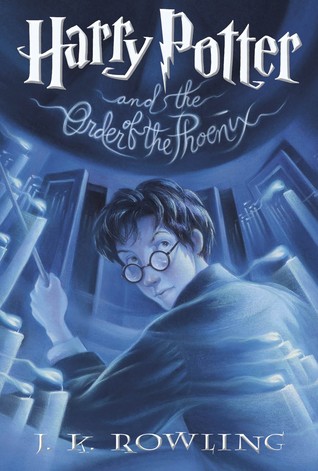 What is the largest book that you guys have read? Comment down below and tell me! Until my next post, just remember that I love you guys...to infinity and beyond!