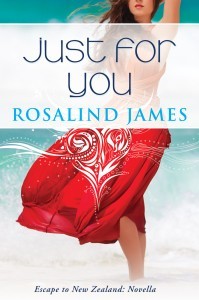 Rating:
Title:Just For You
Author:Rosalind James
Publisher:Self-published
Publication Date:July 31st 2014
Format:e-book
Pages:103
Goodreads
-
Amazon

No shirt, no shoes, no … problems?

Hemi Ranapia isn't looking for love. Fun, yes. Love, not so much. But a summer fishing holiday to laid-back Russell could turn out to be more adventure than this good-time boy ever bargained for.

Reka Harata hasn't forgotten the disastrously hot rugby star she met a year ago, no matter how much she wishes she could. Too bad Hemi keeps refusing to be left in her past.

Sometimes, especially in New Zealand's Maori Northland, it really does take a village. And sometimes it just takes a little faith.


Review
This book is a prequel novella to the Escape to New Zealand series and occurs before the series starts so it can be read as a standalone which I did and honestly, I enjoyed reading the book, it was cute but it's not something that I would personally read over and over again. It was really short, I read it in a day with a ton of pauses in between but everything felt rushed sometimes. I loved that I got to learn a ton of New Zealand slang words and culture. The actual story was really cute if a bit predictable and overdone.
I happen to really like when books are short and fast-paced. Short and fast-paced over long and drawn out any day. This book was exactly like that even though, I've not been really in the reading mood lately, I was able to finish it in record time. However, even though I enjoyed that aspect of the book, I felt that at some points stuff was butchered and rushed through e.g the romance, the character development. I get that it is a novella but I felt like time could've been spared for the important features of the book. Though it was a quick read, the rushing through of those features made the book a little less desirable for me.
The sheer amount of New Zealand phrases and culture in this was just...AHH! I loved it, I felt like I was travelling to the place without leaving my house and it was cool! There were so many lavish descriptions and it made me want to be in New Zealand. I learned some new words and I could live there. Seriously, because of this book, which had a frickin' New Zealand phrase glossary, I think that I would survive, like hardcore survive a day, possible two in New Zealand. Crazy huh?
The premise of this book was good and I read like the wind but I didn't feel like it was original and I didn't get a sense of genuineness from the romance in the story. It all just felt done before but it was funny. I mean, the characters were cool, their relationship was interestingly hilarious. Idk, for some reason, I just could not stop giggling and face-palming at the romance.
All in all, it was a decent read, a good one but it was more on the not-perfect side than the perfect side. Moreover, I enjoyed it, I both liked and disliked stuff about it and I feel like the bad stuff cancelled out the good stuff and the good stuff cancelled out the bad stuff so I was left with nothing. In which case, I did not know how to rate this book because it wasn't my cup of tea but I feel like it might be someone else's. In the end, I went ahead and decided to give this book 3 cupcakes because it's kind of the middle ground I think where the book is not so bad but it's not perfect either.
P.S Ignore how my navbar is gone atm. It's under reconstruction. K?
Final Sentence of the Book
"Give me a chance to say yes"
Read if you enjoy...
Romance~Books set in foreign countries
Follow my blog with Bloglovin