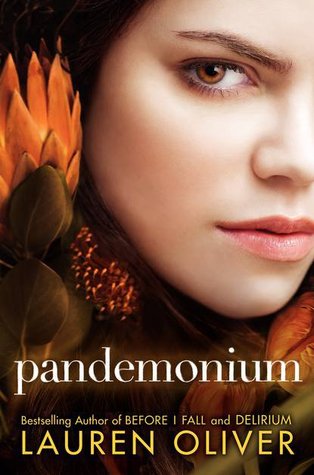 Rating:

Title:Pandemonium
Author:Lauren Oliver
Publisher:HarperCollins
Publication Date:February 28th 2012
Source:Personal Buy
Format:Paperback
Pages:329
Goodreads
|
Amazon
|

I'm pushing aside
the memory of my nightmare,
pushing aside thoughts of Alex,
pushing aside thoughts of Hana
and my old school,
push,
push,
push,
like Raven taught me to do.
The old life is dead.
But the old Lena is dead too.
I buried her.
I left her beyond a fence,
behind a wall of smoke and flame.

Review
I actually enjoyed this book a lot more than I did the first book in the series,
Delirium
. There was a ton of action and substance which kept it interesting from start to finish. I felt like the characters actually had a backbone this time around and I really enjoyed reading more about them. That cliffhanger at the end! GAH! One thing I didn't really love, however, about this book was the switching of time periods from
then
to
now
;
then
being immediately after Lena left Portland for the wilds and
now
being the present time period of the novel which is a few months after that.
The action of this book was just...actiony, idk but it was GOOD. The first book had so much world-building that it left little room for anything else and I think that because of the immense amount of world-building in that book, there wasn't really much need for any more in this book so...we had room for everything else and I loved it! I was intrigued by the whole idea of the
scavengers and the invalids
and their world was very different, good different from what we've previously experienced from Lena's life in Portland.
In my review of
Delirium
, if you guys remember, I didn't really enjoy any of the characters, at all, they were all kind of bland and uninteresting but the characters in this novel, especially the newly-introduced ones such as
Raven, Tack, Julian and even the changed version of Lena!
Lena was a total badass in this book, she like went from being totally lame and passive to this hard, unbreakable girl who's at the center of the resistance within a few months. Her relationship with Julian was cute and most of all believable and I think that I'm on Team Julian, I never really liked her and Alex. Some of the minor characters like
Blue and Hunter
actually added a lot to the story and I enjoyed that a lot as well.
The last sentence of this book! I can't! I need
Requiem
now! Like, in my hands, in my possession, right now! But I thought...I can't even think! That was just...wow! Wow! That's all I have to say, all I can say without spoiling things for you guys!
I was not a huge fan of the time period switch thing that was going on in this novel. It left me confused because it switched in between chapters i.e if chapter one was
then
, chapter two will be
now
, and some of the chapters were really long so I would go 50+ pages without reading
then
and by the time it switched back, I'd completely forgot where it left of and have to flip back pages. That was super time consuming! I guess I understood that it had to be done for us to see Lena's past when she first came into the Wilds but I just felt like it could have been done better because the transitions seemed a bit choppy and I was not a fan.
That, fortunately, was the only thing that I disliked about this novel. I thought that it was a good sequel and a good continuation of the trilogy. It made me want the final book and I think that says something about the book. The whole time period thing happened throughout the entire book and annoyed me the entire time, preventing me from giving this book five cupcakes. So, I thought I'd settle for four instead. In reality, it's probably about a 3.5 but who wants half a cupcake? No one, that's who.
Also, completely unrelated, kind of related, I guess but...the unaired Delirium pilot(unaired for a reason, it was horrible) dropped and it's on Youtube so I thought I'd give you guys the hookup to watch it. It was sooooooooooo bad guys. They changed a lot of stuff and tried but failed to cram a bunch of stuff from the first and second book into 43 minutes. This could have been done so well but, of course, they had to screw it up. I'm hoping I can review this soon for you guys but until then, watch it and then, we can discuss! Here's the link to the pilot episode: Click Me!
Final Sentence of the Book
I'm not going to write the last sentence of this book because it's kind of spoilery, just a bit.
Read if you enjoyed...
Follow my blog with Bloglovin
Toodle-ooo
~Laquesha <3