Rating:
Title:E
Author:Kate Wrath
Publisher:Self-published
Publication Date:May 4th 2014
Source:The author
Format:E-galley
Pages:351
Goodreads
-
Amazon

Anarchy reigns in far-flung Outpost Three, where a nameless girl wakens, having lost everything that defines her-- home, family, memories. E is the story of her battle to survive, to find meaning in a gritty world full of darkness, and to hold on to the few beautiful things she has managed to scrape together. At once riveting and heart-breaking, E delivers an action-packed page-turning experience that flows with an undercurrent of dark poetry.
Review
I was sent an e-galley of this book by the author and to be honest, the book really didn't sound like something I normally would read but I was like "Hey, why not?". Long story short, I read the book and I loved the book. The writing style in this novel was really nice, it was beautifully descriptive and kind of poetic, actually. The world and the premise of this novel were...interesting, really grungy and scary, I would die if I lived in this world but it was intriguing to read about. The main thing that sold me on this novel was the characters who were just unbelievably amazing!
I have a major problem with writing styles; it is the thing that can make or break a book for me. Some writers choose to be overly-descriptive which bores me to death and some writers choose to be lax in descriptive approach which annoys me so much and makes me want to bang my head against a wall. For me, it's either there's too much description or too little description but I think that
E
was somewhere in the middle and I liked it because it didn't go down to the T describing the consistency of lint but it also didn't leave me confused. There was also a sort of poetry to the writing and everything flowed and was pretty. I just could not stop reading because the way in which it was written made you want to read more, if that makes sense.
The world that Kate Wrath built in this novel was original and I loved it. I felt as if it was perfectly described and the things that weren't fully explained were left that way to provide a sense of mystery and suspense and it worked because I am filled with anxiety, waiting for the next book. I thought that there was just enough world building, not too much so as to overpower the actual plot of the story but enough to keep the reader informed. The world was so action-packed and kickass and overall, just cool, there was never a dull moment while reading this, there was always some factor in the book that kept the reader's thought flowing along the lines of "What's next?" and I tend to get bored and distracted easily while reading so I was thankful that the premise was quite interesting.
I
loved
the characters in
E!
They were just so developed and actually had depth which is usually my problem with dystopian novels. The authors usually focus so much on the world and introducing it that they forget about the other important things like character development. These characters are basically my homies now, like yeah, we're friends. My favourite characters in the book were Eden (the badass), Matthew (the thug, kind of), Jonas (the smart one) and Oscar(the kid). Eden was the perfect female protagonist, she did not need a man to save her (though Matt kind of helped her out a few times but still...), she had a knife and she gambled and she was my girl! She's high up on my list of favourite female protagonists, now, yay! I do not know what it is about Matt that makes me like him because he's kind of a horrible person most of the time. But then, there's the other times when he is extremely sympathetic, nice and likable! He is just so...HOT! But, he's mine so...back off! Jonas is extremely bipolar sometimes, you never know with him but he's really wise and the kind of guy you would want to have as your friend if aliens ever invade earth; he'd be sure to come up with a plan. Finally, Oscar who is the cutest thing alive and I cannot really get into any major detail about the pain I feel right now without spoiling you but he is just amazing! The characters were the story, I was reading it for them, they were captivating, funny and really lovable.
My enjoyment of this book cannot fully be described with English words, there are some incoherent sounds and fangirl screams up in there but know that it was a good book, a great book, an amazing start to what looks to be an amazing dystopian series and you should read it. Read it now. Go to Amazon and just buy it, support the author because this is a self-published book, a great one that I think the entire YA community needs to know about. For all the reasons listed above, I gave this book five cupcakes and I think you will to when you read it. Fun fact, this book actually has a 5.00 rating on Goodreads right now, what, I don't think I've ever seen that happen before, it's kind of awesome.
Final Sentence of the Book
What Matt has not figured out yet.
Read if you enjoy...
Dystopian~Action~Awesome Female Protagonist~Lovable Characters
Similar Books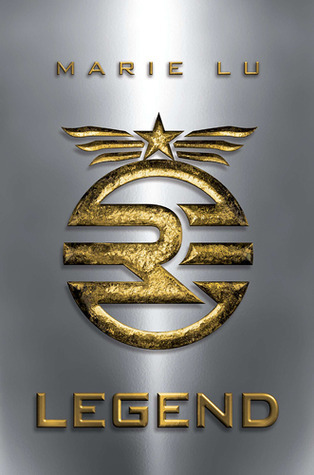 Follow my blog with Bloglovin
Toodle-ooo
~Laquesha <3