Hey,guys! How are you? I hope that wellness and happiness and every other great thing that ends in "ness" is filling your lives right now. I think I mentioned in my last post or my second to last post, which was yesterday or the day before that, I am not totally sure, how far behind I am in my 2014 reading challenge. It's really scary how goals change. I started the year really really determined to meet my challenge of 60 books and now I'm wavering and I don't want to waver! I know that I have the ability to conquer this challenge that I set for myself but I've just been so consumed by other obligations such as school, friends,etc. and I just haven't have sufficient time to really read this year! However, I hope to alleviate this problem starting from next week Monday to the Monday after that when I participate in the BookTube-A-Thon, DUN, DUN, DUN! If you don't know what the BookTube-A-Thon is, it's basically a weeklong readathon run on BookTube (the community of book vloggers on YouTube) by the lovely Ariel Bissett. I'm super excited for it because I feel like I'm going to kill my TBR pile and that just means that I get to buy more books! I am not going to be participating in the video challenges, I'm pretty sure and if I do, it will be in blog post form but I'm definitely going to have fun with the reading challenges and the Twitter sprints and I just wanted to share the books that I chose for the challenges!
Reading Challenges
1)
Read a book with pictures! (This can be a graphic novel, a manga or simply a novel with a few drawings here and there).
For this challenge, I wanted to choose something that I would fly through quickly, something fun and lighthearted and overall, just quirky. I don't own many books with pictures that are unread so I finally decided to go with Dork Diaries: Tales From a Not-So-Fabulous Life (Dork Diaries #1) by Rachel Renee Russell. Okay, before you judge about how childish this book is, I know it's middle grade but I read the synopsis and it just seems like something that I will love to death!


2)Start and Finish a Series
Now, when I saw this, I just could not! I mean, how in the world could a sane person possibly complete a full series in one week? And then it hit me like a brick: duologies! Duologies! Two books?! I mean, that's a series right?! As in, more than one book? So, I searched through my shelves and found a duology that perfectly suited my needs: The Insider duology by Maria V. Snyder. I chose this particular duology for two reasons, quite honestly; it is extremely short (each book is only about 320 pages or so which is nice!) and I've just been wanting to read a Maria V. Snyder book for the longest while! So...I'm going to because I want to. :)

3)Read a book someone else picks for you and 5)Read a Book-to-Movie Adaptation (and watch the movie)
I gave my younger sister the task of picking a unread book from my shelf for me to read this coming week and she literally just watched the covers of the books and picked the prettiest one which I was really happy about because she basically did me a favour and killed two birds with one stone. She chose
the Fault in Our Stars by John Green
which I have already read but which also, coincidentally happens to be a book-to-movie adaptation so...cha-ching! I read this book...last October, November, I don't remember and I've already seen the movie (
Click for my review of the movie!
) but the details are a bit sketchy in my mind. That being said, I was ecstatic to jump at the opportunity to re-read such a fantastic book and re-watch its equally fantastic movie.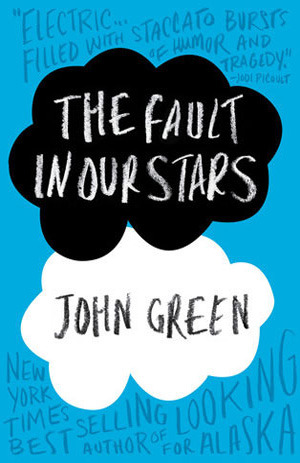 4)Read a book from the genre which you've read the least from this year and 6)Read a book with the colour red on it
The genre that I've read the least from this year, unsurprisingly, is classics! I have no idea what it is about classics that makes me not want to read them but I've only read one classic which was
Things Fall Apart by Chinua Achebe
and that was for school! UGHH, I can't with classics! For this challenge, I chose
Silas Marner by George Eliot
which I received as an award from school a few years ago. It's also the only classic that I really own that I haven't yet read for school and I wasn't going to buy a classic specifically for the BookTube-A-Thon. Also, bonus, the spine of this book is fully red which you can't see from the picture down below but it is so...doubling up the challenges! Fun fact, this is also a book-to-movie adaptation. I'm not sure if I want to watch the movie, maybe if I enjoy the book. It's pretty short, less than 300 pages and I just think it'll be a really quick read!
7)Read 7 books, average 300 pages a day to read a total of 2100 pages.
If you checked, you'd find that I only chose 5 books so I needed to choose two more and after a lot of deliberation, I picked out two books that I really wanted to read that have been on my TBR pile for a while and drum roll please! They are
the Selection by Kiera Cass
and
The Poison Diaries by Maryrose Wood and the Duchess of Northumberland
! I've just heard such good things about the Selection trilogy and I want to get in on the action because I feel left out and I wanna join the bandwagon! As for the Poison Diaries, I've had this book on my bookshelf for about two years and it's about time I read it and I know that if I don't read it now, I never will.
Hope you enjoyed reading about my TBR list for this BookTube-A-Thon. I tried to pick short books so that I would actually have a chance of completing them. I want to but hey, if I cannot manage, at least I had fun, right? I encourage you to participate in this readathon as well because it promises to be a very enjoyable activity and we could do it together and chat and have fun so...let's read! I will update each day on my progress but you can also keep track of where I'm at on my twitter (@boooklover20). Until my next blog post, I wish you all the best and don't forget to smile! :) Love you to the moon and back!
Toodle-ooo,
Laquesha <3