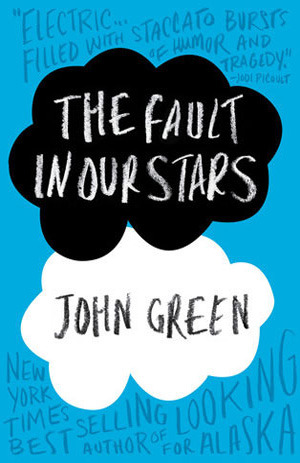 Rating:
Title:The Fault in Our Stars
Author:John Green
Publisher:Dutton Books
Publication Date:January 1st 2012
Source:Personal Buy
Format:Paperback
Pages:318
Goodreads
-
Amazon

Despite the tumor-shrinking medical miracle that has bought her a few years, Hazel has never been anything but terminal, her final chapter inscribed upon diagnosis. But when a gorgeous plot twist named Augustus Waters suddenly appears at Cancer Kid Support Group, Hazel's story is about to be completely rewritten.
Review
WARNING! THIS IS AN OLD REVIEW FROM MY GOODREADS! PROCEED WITH CAUTION!
The Fault in Our Stars by John Green. I must admit that I had been avoiding reading this book for quite some time because of the number of people who raved about it. I am a bit hesitant to read books that a lot of people love and talk about because I feel that they never live up my expectations and I am always disappointed. This particular novel, however, did no such thing. It was just so sad and heartbreaking but at the same time, absolutely beautiful and brilliant, a masterpiece that deserves all of the glory that it is given.
The characters were relatable and extremely well-developed and after reading the first quarter of this book, I found myself falling for it, becoming so emotionally and mentally involved in the story. I loved Hazel! For a girl that had a tumor on her lungs and could die at any given minute, she was quite entertaining and rather funny, especially when it came to her relationship with Augustus (the SEXY BEAST). Periodically ,she became sad because of her disease (but who wouldn't?) but for the most part, she was pretty optimistic.
John Green's writing style immediately piqued my interest, it was rather unique and contributed to my love for this story. I went in to this book, knowing that it was famous and a lot of people loved it, but...I never actually really KNEW what it was about. It's content surprised me and gave me thorough insight and a greater respect for those that are suffering with cancer and those who've lost their love ones to the disease. It made me super empathetic and throughout the entire book, I just kept getting the urge to like reach in and give Hazel, Gus and Isaac like a huge bear hug because they needed one.
JOHN GREEN, WHY WOULD YOU DO THIS TO ME!!!? Sorry, I just finished reading and I'm kind of emotional right now. And also scared to read anything else by John Green because he made me love them, made me love Hazel and Augustus' relationship to death and then, he just...he tugged at the heartstrings, man. He just...he...JUST READ THE FRICKIN BOOK, IT'S FLAWLESS!.
Final Sentence of the Book
I do.
Read if you enjoy...
Contemporary~Love
Follow my blog with Bloglovin