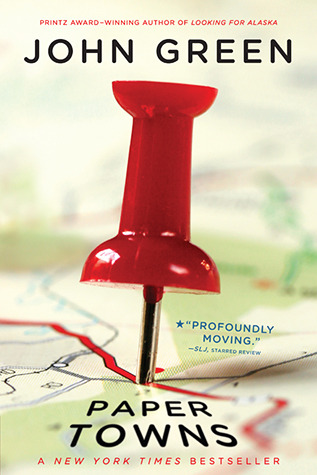 Rating:

Title:Paper Towns
Author:John Green
Publisher:Speak
Publication Date:September 22nd 2009
Source:Personal Buy
Format:Paperback
Pages:305


Quentin Jacobsen has spent a lifetime loving the magnificently adventurous Margo Roth Spiegelman from afar. So when she cracks open a window and climbs back into his life — dressed like a ninja and summoning him for an ingenious campaign of revenge — he follows.

After their all-nighter ends and a new day breaks, Q arrives at school to discover that Margo, always an enigma, has now become a mystery. But Q soon learns that there are clues — and they're for him. Urged down a disconnected path, the closer he gets, the less Q sees of the girl he thought he knew.
Review
Give it up for the third John Green book I have read and loved! Wow, three in a row. I think it's safe to say that he's one of my favourite authors. I love him and adore his work. This book was fantastic. The characters were so cute and lovable. The plot was really interesting and didn't drag at all. And the ending...once again Mr. Green you have succeeded in breaking my heart.
In every John Green book I've read, he's managed to make me fall in love with his characters. They're usually really weird but intriguing and have some type of interesting quirk. In
TFIOS
, Hazel and Augustus had an obsession with metaphors. In
Looking for Alaska
, Pudge has a thing for last words. In this book, Margo has a thing for random capitalization and disappearing, Radar had an obsession with the omnictionary, Ben with proms and Quentin with Margo. The characters were just cute and made me LOL all the time and their wacky personalities really added life to the story.
The plot of this book was really captivating and mysterious, like I was with Quentin 100% searching for Margo, I loved it. It kept me interested. It wasn't...sad, more developmental, I watched the characters grow from start to finish and it was awe-inspiring. And it was funny, John Green took a serious situation, the disappearance of a loved one, and added charm and quirk to it and it worked.
UGHHH! The ending, man. Do you have to break my heart all the time, Mr. Green? I love you but I also love happy, expected resolutions (not really). It didn't exactly turn out the way I thought it would but I was satisfied, I thought it was a perfect ending.
So, yeah I loved this book, I could not put it down, it was amaze-balls and totally deserved my awesome five cupcake rating.
Final Sentence of the Book
Yes, I can see her almost perfectly in this cracked darkness.
Read if you enjoy...
Contemporary~TFIOS~John Green
Similar Books
Toodle-ooo
~Laquesha
Follow my blog on BlogLovin'!