Rating:

Title:The Fault in Our Stars
Author:John Green
Director:Josh Boone
Release Date:June 6th 2014
Length 126 mins


Despite the tumor-shrinking medical miracle that has bought her a few years, Hazel has never been anything but terminal, her final chapter inscribed upon diagnosis. But when a gorgeous plot twist named Augustus Waters suddenly appears at Cancer Kid Support Group, Hazel's story is about to be completely rewritten.
Review
TFIOS! AH! WHAT? I CAN'T! It was sooooooooooooooooooooooo good!! Just, wow, I cried like I thought I would and I loved it sooooooooo much. For those of you have have yet to read the book and/or see the movie, you might want to get out of here right now because this post is going to be rather spoiler-filled, I can tell and I don't want to be the one to burst your bubble and ruin everything for you. Just don't hesitate, read it, watch the movie, come back and we can have a nice little chat about it. So, I've broken up this review into three parts, the three parts that I think are really important for any book-to-movie adaptation: actor portrayal of characters, how the movie kept with the plot of the book and just straight up movie interest. Let's go!
CHARACTER PORTRAYAL
Hazel
First off, let's discuss our main protagonist, Hazel, shall we? Hazel Grace Lancaster was portrayed by Shailene Woodley (you may know her, she was also
Tris in Divergent
) and I think Shailene did an outstanding job as Hazel. I had some doubts when she was chosen for the role but those doubts were quickly dispelled upon seeing only ten minutes of the movie. She WAS Hazel and Hazel was her. When I was watching the movie, I didn't see an actress, someone pretending to be someone else, I saw Hazel Grace Lancaster. She was perfect, she was shy at the right times, feisty at others and the true chemistry between her and Ansel Elgort was magical. They couldn't have picked a better Hazel. She looked like her and acted like her, she was her.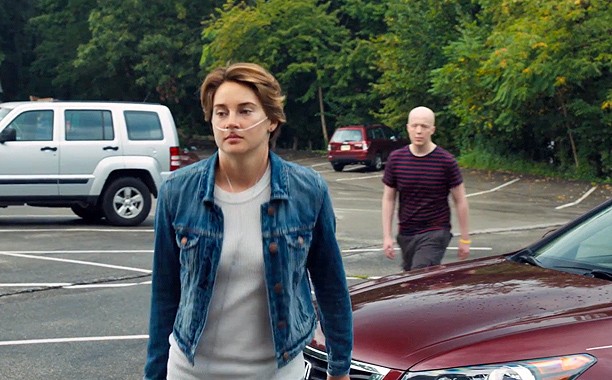 Augustus
Augustus was played by the lovely Ansel Elgort who didn't really look like how I pictured Gus to be, quite honestly but...his acting, though, amazing! He wasn't Gus physically but he was him emotionally. He was funny and witty and I was so wrong about him, he did a great job portraying the heartthrob that is Augustus Waters.
Isaac
I loved Isaac in this movie, even more so because he was portrayed by Nat Wolff, my childhood crush! Isaac was my favorite character from the book and seeing him brought to life in such an amazing way by such an amazing actor was...amazing and made me love him even more. He was the funniest character in the movie and he stole the spotlight of every scene that he was in and Nat Wolff embodied what I thought Isaac was about.
I think the character portrayal in this movie was superb and well-done. The actors and actresses did a fine job of representing these truly loved characters from John Green's beautiful novel and the chemistry between the characters was tangible. Even the supporting characters such as Hazel's mom and dad and Peter Van Houten did a god job and contributed to my overall enjoyment of this movie.
How Well the Movie kept with the Plot of the Book
The movie had a ton of changes from the book including the fact that Hazel's friend, Kaitlyn, was never mentioned, as well as Augustus' old girlfriend. While I wish they mentioned those things, I don't think they would have really affected the direction of the movie. The aspects of the books that were changed were semi-unnecessary and their presence, or lack thereof, I think, wouldn't have changed the movie in any significant way. Moreover, the movie stuck with the plot of the book really well, there were a few tweaks here and there, but it was good and I felt like I was reading the book while watching the movie because they kept so many of the original lines in there. I could literally say all the movie lines along with the actors while watching the movie.
How Interesting I Thought The Movie Was
I
really really really really really
really loved this movie. I thought it was fantastically done, the acting was superb and it stuck with the book. It was both humor-filled and sad at the same time, like I was happy, then I was sad, I was just an emotional wreck through this entire movie...and I loved it! I fell madly in love with Augustus Waters all over again. The movie made me WANT to re-read the book a thousand times over and I just, I can't describe how amazing this movie made me feel. I loved it, I loved it and that's why I rated it five stars.