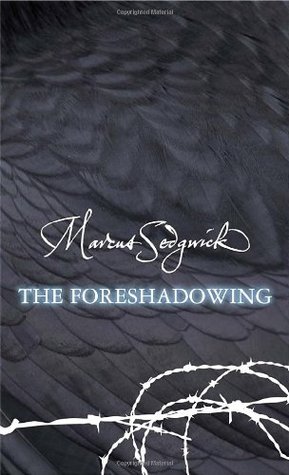 Rating:

Title:The Foreshadowing
Author:Marcus Sedgwick
Publisher:Wendy Lamb Books
Publication Date:May 23rd 2006
Source:Library
Format:Hardcover
Pages:304
Goodreads

It is 1915 and the First World War has only just begun.

17 year old Sasha is a well-to-do, sheltered-English girl. Just as her brother Thomas longs to be a doctor, she wants to nurse, yet girls of her class don't do that kind of work. But as the war begins and the hospitals fill with young soldiers, she gets a chance to help. But working in the hospital confirms what Sasha has suspected--she can see when someone is going to die. Her premonitions show her the brutal horrors on the battlefields of the Somme, and the faces of the soldiers who will die. And one of them is her brother Thomas.

Pretending to be a real nurse, Sasha goes behind the front lines searching for Thomas, risking her own life as she races to find him, and somehow prevent his death.
Review
I absolutely loved this book! Kind of a cliche way to begin a book review but it is 100% true. Below, is a list of things that really secured a place for this novel in my heart.
1) It is a historical fictional novel set roughly in the 1914-1916s around the time when World War One was happening. I studied this topic at school a while back in History and it was just so interesting and absolutely mind-blowing to read about in 276 pages or less. It really captivated me to practically see everything that I had studied in History come to life in this book. It was realistic, believable and well done.
2)ALEXANDRA AKA SASHA FOX! I mean, come on, this girl basically was the badass of her time. She was intelligent, sneaky and just did not take no for an answer, which was admirable considering that she lived in a society where women's activities and husbands were decided by their male superiors. Sasha was...different, she was psychic and could see the future of others but...only their impending deaths. She foresaw many deaths, including that of her eldest brother Edgar who had been fighting the war, at which point she had a complete mental breakdown. It also didn't help that her only other sibling, Thomas, who had been adamant about finishing his medical studies and not going to war, suddenly decided that he had a death wish. Sasha foresaw his death and was determined not to let her family be ripped apart by yet another death of a beloved son. So, she snuck off to France a.k.a WAR CENTRAL in a desperate attempt to prevent her brother's death. I just loved Sasha sooooooooooooo much, she just entertained me throughout the entire book. To me, it hadn't mattered what all the other characters were saying, I wanted to read about Sasha and her struggles with her psychic ability and how they got her in trouble and also helped in finding her brother.
3) When she did find her brother, OMG! ASDFGHJKL! What? What? I had not been anticipating the ending of this novel. It took me by surprise and it's very rare that a book does that to me and I loved every minute of it. It's just...UGH...too amazing for words! How had I not seen that coming?
I would recommend this book to anyone who thoroughly enjoys Historical Fiction books or if you're just looking for a quick but entertaining read. I must admit, at times, it seemed a bit like a diary and was a little slow-paced but it wasn't annoying slow-paced. It just gave time to really develop a love for this book and the characters. I loved it, it is now forever in my heart and it is definitely a book that I could re-read thousands of times and never get bored.
Final Sentence of the Book
I don't own the book, sadly, I need to get it so I'm not completely sure what the last sentence was.
Read if you enjoy...
Historical Fiction~Action
Similar Books
I have to yet to read a book that is in any way similar to this one...yet.