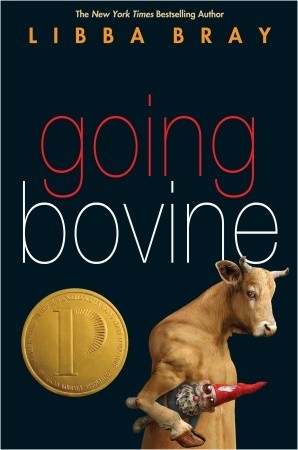 Rating:

Title:Going Bovine
Author:Libba Bray
Publisher:Delacorte Books
Publication Date:September 22th 2009
Source:Library
Format:Hardcover
Pages:480
Goodreads|Barnes and Noble

All 16-year-old Cameron wants is to get through high school—and life in general—with a minimum of effort. It's not a lot to ask. But that's before he's given some bad news: he's sick and he's going to die. Which totally sucks. Hope arrives in the winged form of Dulcie, a loopy punk angel/possible hallucination with a bad sugar habit. She tells Cam there is a cure—if he's willing to go in search of it. With the help of a death-obsessed, video-gaming dwarf and a yard gnome, Cam sets off on the mother of all road trips through a twisted America into the heart of what matters most.
Review
WOW. JUST WOW. Let me just start by stating that this was the first book that I've read by Libba Bray and to be quite honest, up until about page 460, I was thoroughly disappointed. The cover didn't appeal to me at all and while reading, I kept going through phases of hating the book, liking it and thinking it was okay. It seemed a bit unrealistic. I mean, fantasy is always a good thing but...not too excessive to the point where it seemed like the plot was dreamed up by a five-year old. The story was also very slow paced and made me feel mentally and physically exhausted just by reading it. A 480-page book usually takes me about two/three days to complete but not this one. It just bored me mostly and made me put it down like every ten minutes. I just couldn't take too much of this story all at once so it took me a solid week of forceful reading.I really felt like there could've been more description about the so-called fire giants because there wasn't really any and they didn't really contribute much to the story, in my opinion, and their presence or lack thereof wouldn't have made a difference to me.
Now, let's talk about the thing that stopped me from giving this novel one star, and giving it three instead. THE ENDING. OMG, the ending was spectacular and quite frankly questioned my reality. WTF? It was totally unexpected and just outright shocked me. I thought I knew what was going to happen at the end of this book, but boy was I wrong. It left me confused and made me think that reading this novel wasn't such a horrible thing after all. I am still in shock and awe that Libba Bray was able to pull that ending off.
In conclusion, it was an okay read, not my favorite book, not the worst book I've ever read. It was just okay. I wish I could rate it higher just because of its ending but I can't because that would be terribly dishonest of me. Would I recommend it to someone else? Maybe but I'll just put it out there that if you're considering reading this novel, you might want to get some coffee and lots of it because you're going to need some help staying awake for the first few hundred pages of this book. Overall, I liked it, I'm probably not going to re-read it ever but it wasn't completely horrendous (THE ENDING WAS AMAZING!!!).
Read if you enjoy...
Kickass action and adventure
Similar Books