Hey, lovelies!
Don't Hate Me!
. I haven't posted in forever, I know. Life's just been so hectic with school and everything and it's been so difficult to find time! Yes, time, that's what I need, time to post reviews and random ass bloggy things. But I promise I'm going to post more frequently and that'll be my last hiatus in life! I missed my blog terribly while I was away and now I'm back and better than ever. I hope you enjoy reading this review as much I enjoyed reading this book.
P.S DON'T read this if you haven't read the book, it contains heavy spoilers! Also, I'm going to be transferring some of my old Goodreads reviews to my blog so if you get a ton of reviews from me in the next few weeks, it's not because I'm totally cray-cray.
Don't worry, I'll let you guys know which reviews are old reviews. Okay, that is all for now, lovelies, catch you on the flip side, and
Follow my blog with bloglovin'
Toodle-ooo,
Laquesha <3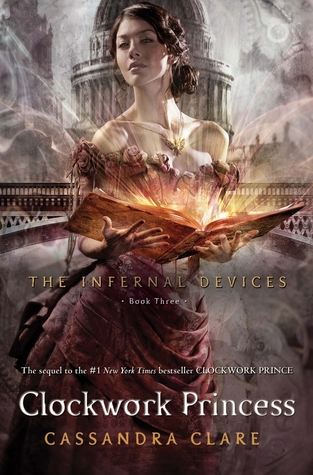 Rating:

Title:Clockwork Princess
Author:Cassandra Clare
Publisher:Simon & Schuster, Margaret K. McElderry
Publication Date:March 19th, 2013
Source:Personal Buy
Format:Paperback
Pages:565
Goodreads|Amazon|Barnes and Noble|Indigo

Tessa Gray should be happy—aren't all brides happy? Yet as she prepares for her wedding, a net of shadows begins to tighten around the Shadowhunters of the London Institute. A new demon appears, one linked by blood and secrecy to Mortmain, the man who plans to use his army of pitiless automatons, the Infernal Devices, to destroy the Shadowhunters. Mortmain needs only one last item to complete his plan. He needs Tessa. And Jem and Will, the boys who lay equal claim to Tessa's heart, will do anything to save her.
SPOILER,PROCEED WITH CAUTION! Review
Oh shit, oh hell, oh my, I can't, the feels, the feels, I can't handle the feels!This book was sooooooo good, sooooooo good, it was beyond good, it was
supercalifragilisticespialidocious (sp?)
! Finally, a trilogy with an end that didn't suck eggs! What is the world coming to? The action,oh, the action was the action of actions! It was totally action-tastic! And the romance, let us not forget about the Will-Tessa-Jem love triangle explosion!
So...trilogies or like series in general just suck for me because they always start really, really well and have a crappy, subpar ending and it pisses me off!!! This ending was sooooooooooo cool though. Nothing happened like I thought it would and shit happened and I can't get over the ending! Like, I knew Will would die eventually and Tessa would still be alive because she's immortal but I was so not prepared for it! And the prologue, the freaking prologue! Jem and Tessa in 2008. I'm hoping that this means that there's potential for a Jem-Tessa cameo in City of Heavenly Fire. But the ending, lovelies, seriously, the ending!
The action throughout this novel was ridiculous! It was just non-stop, start to finish, BAM, BAM, BAM!! From Jessamine coming back to the institue, to Mrs. Black kidnapping Tessa, to Jem dying, to Henry becoming paralyzed, to finding out that Jem wasn't dead, to Tessa transforming into a magical angel and to everything! Everything was action-tastic, so action-tastic that I needed to make up the word action-tastic to satisfy my life! The book was never boring and the characters were constantly moving and I started to love characters that i hated before and...it was just so nice!
The thing that I loved the most or I guess, hated to most and wished would change but loved anyway was the Will-Tessa-Jem love triangle, the first love triangle in the history of life(and that's a long history) that has ever made me not choose a side. I loved both Will and Jem equally and it was so devastating to read this book and watch them get hurt and hurt each other and...I could not stop the tears while reading this. On one hand, I wanted Jem to get the girl because he was so selfless and he didn't deserve to die without having that perfect love. He didn't deserve to die at all! He's so cute! But on the other hand, Will suffered for years, pushing everyone away because he thought he had a curse that never existed. He was witty and funny but he suffers and also deserved to be loved and life is just sooooo cruel! I wish that there were two Tessas. Will'd amazing and Jem's amazing and...I guess those of you who read it can argue that it worked out at the end but it didn't work out, it really didn't! Will and Tessa worked out, they were together until he died and Jem and Tessa were together a century after that when Jem finished his Silent Brotherhood but...Will and Jem, parabatai for life, sworn blood brothers, didn't work out. Jem became a Silent Brother so they couldn't be parabatai anymore and they only saw each other on occasion. So, if you ask me, everything was resolved for everyone except Jem and Aloysius Starkweather, who by the way was Tessa's great-grandfather but, because of Mortmain's Infernal Devices, didn't live long enough to tell her.
So, all in all, I loved this book, it was an epic conclusion to an amazing trilogy and it made me cry, no book has made me cry before except maybe TFIOS, which had me watery-eyed but not full on crying like this book. Read this trilogy, I beg you! Read TMI, just read Cassandra Clare books because this was amaze-balls and everyone needs to read it so, yes, it was a five-cupcake read.
Final Sentence of the Book
And if the Thames that ran beside them, sure and silver in the afternoon light, recalled a night long ago when the moon shone as brightly as a shilling on this same boy and girl, or if the stones of Blackfriars knew the tread of their feet and thought to themselves:
At last, the wheel comes full circle
, they kept their silence.
Read if you enjoy...
Cassandra Clare~Shadowhunters~Action
Similar Books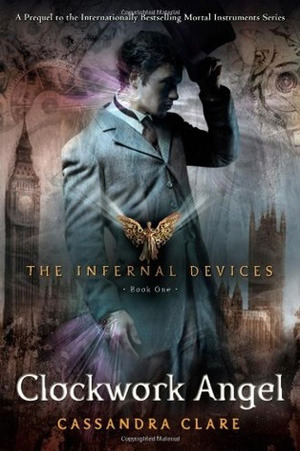 Toodle-ooo
~Laquesha